DANCING WITH THE GRIM REAPER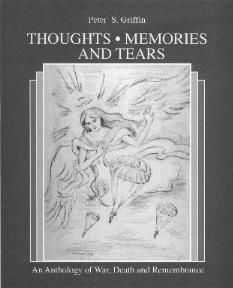 The sounds of war, come crashing down,
Fast as lightning, death wears a frown....
Soldiers caught, in the Reaper's embrace,
Life's breath leaves, without a trace....
Bomb's explode, cymbals' clash,
Machineguns roar, the Reaper laughs....
The Devil's busy, collecting souls,
War is hell, innocence pays the tolls....
The gates of hell are open wide,
The melody plays on, as soldiers die....
Dodging bullets, they stoop and sway,
The Reaper dances, he leads the way....
They dig the earth, in which to hide,
The Reaper's sickle, swings in stride....
There's no escaping death, you see,
The Reaper's dance, for you and me....
The crescendo heightens, as chaos reigns,
Cadence is kept, to the cries of pain....
The smell of death, vivid realization,
The wages of war, death and tribulation....
To death's music, there is no harmony,
It's notes, conceived of brutal agony....
Grenades explode, life gets, still cheeper,
Death so close, DANCING WITH THE GRIM REAPER....
The hounds of hell, are set free,
Snipers in trees, fill the balcony....
No one escapes his dance, its personal, toe to toe,
Napalm explodes, illuminating, the darkest shadows....
The skies open, as God sheds his tears,
The Reaper keeps dancing, he has no fears....
Death's now playing it's saddest song,
To it's inventory, youth, now belongs....
The sounds of death, keep a steady beat,
Even bravery and valor, suffer defeat....
The rhythm of hell, plays on forever,
You'll find peace, on "The Twelfth of Never"....
As the dance, slowly, comes to an end,
Life leaves the body, as death settles in....
Rigor-mortis has it's profound, ugly, effect,
In survivors minds, it replays and reflects....
Decapitation, dismemberment, death so grotesque,
Crumpled bodies, loyalty's disfigurement....
Post Combat Stress Disorder, the Devil's sleeper,
You'll get little rest, DANCING WITH THE GRIM REAPER...!