O Deuce Books and Authors
The 2nd O Deuce Book
August 22 Update: The book is done!
Buy it Here
The Introduction to the book(s) may be read on the link above.
Vietnam Unplugged
Pictures Stolen - Memories Recovered
By Pierre (Pete) Major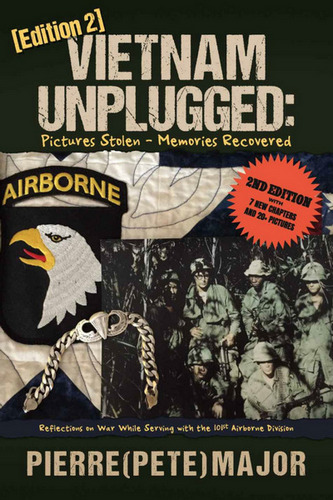 (Click image above to see larger version of cover)
Pierre 'Pete' Major was with Charlie Company of the O Deuce in 1967 & 1968.
I served as an Infantry soldier with the 101st Airborne Division in Vietnam. Much, but not all of the contents deal with my day to day experiences encountered during my time there.

A good portion is a "bottoms up " perspective from my view as an enlisted soldier.
Vietnam Unplugged Excerpt:
Let me begin at the end of my tour in vietnam.

I'm in the airport waiting lounge at Tan Son Nhut, Saigon (now renamed Ho Chi Min City) waiting for my flight to be announced. My new orders call for me to be reassigned to a yet- unnamed outfit in Okinawa. My Class A uniform lost at the cleaners last minute, I am still dressed in jungle fatigues.

A good portion of the people are military with a nice sprinkling of civilians. I am totally relaxed, not having to walk on the edge of death anymore. Soaking up the good vibes of my surroundings, in a bittersweet way I am ready to put this chapter of my life behind me. Happy and extremely lucky to be leaving with all the body parts I arrived with, unlike many others, a cloud hovers knowing my friends remain in the darkness of the Boonies with more to follow in the months ahead.

The sound of explosions came our way, not too far from the airport, and many people nearby scramble for cover. I remain at ease.

My hearing, one of my more finely tuned senses, instantly recognizes the explosions as "outgoing" artillery fire, as opposed to "incoming," the kind designed to really make you jump. Those who have scrambled away now drift back to their seats.
Vietnam Unplugged on Amazon.com
Author's Vietnam Unplugged Facebook page
After Shock - Poems and Prose from the Vietnam War
By Jim Nye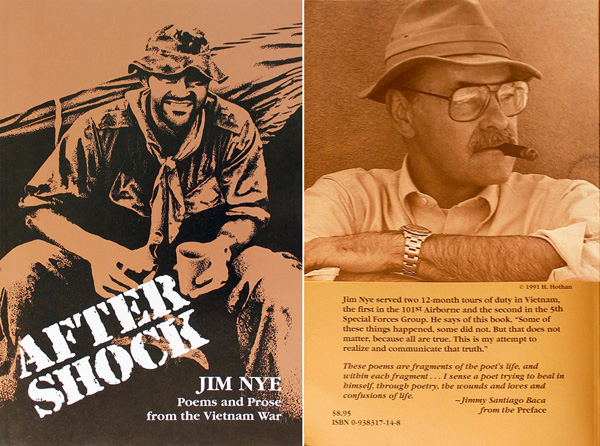 (Click image above to see larger version of cover)
Jim Nye served two 12-month tours of duty in Vietnam, the first in the 101st Airborne and the second in the 5th Special Forces Group, he says of this book, "Some of these things happened, some did not. But that does not matter because all are true. This is my attempt to realize and communicate that truth."
After Shock PREFACE:
One of the reason's I like Jim Nye's poetry is because of its very humane disposition, an attitude of courage and vulnerability that I find admirable and necessary in order for language to leap into the magical realms of the poem and its possibilities. And, it's nothing more than being honest and thoughtful. These poems are fragments of the poet's life, and within each fragment I sense a whole. I sense the poet striving to connect the pain to meaning, to connect love to a real moment and to an understanding of that moment. And, ultimately, I sense a poet trying to heal in himself, through poetry, the wounds and loves and confusions of life. Jim Nye belongs to no school of poetics, except that school of living a life full of contradictions and risks. His is not a willful poetry. The very tone of his work denies any futile positioning, but, instead it takes up the business of trying to understand and being honest with the answers. Permeating the text of the poems is a severe, calm approach, the approach one takes like a devote pilgrim, one step at a time, toward a given end.

- Jimmy Santiago Baca
Buy from
Amazon.com or
Author's Web Site (autographed copy only available from Author's site)
Reluctant Warrior: Memories of a Viet Nam Combat Soldier
By Richard L McBain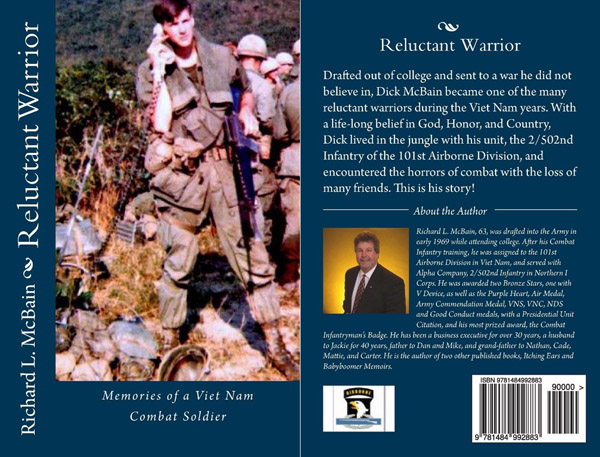 (Click image above to see larger version of cover)
The story of an everyday college kid drafted into the horrors of jungle warfare and his many close encounters with death. The reader will clearly be able to envision just what went on in Viet Nam through the incredible descriptive narrative and pictures tied to each story that the author depicts. The book contains true stories of friendly fire incidents, real brotherhood among units, and even a secret CIA mission the author was involved with in testing an early beacon air strike. The feelings of the soldiers in relation to the upheaval in America against the war, the Kent State debacle, and the refusal of our government to let us win are all described in this book.
Buy from
Amazon.com
or
Publisher's Web Site
For Which We Stand (poem)
By Peter S. Griffin

For "Old Glory", proudly waving across our sacred land
"One nation under God", we'll defend, this most divine of plans...
With "liberty and justice for all"
For our many freedoms, we answer our nation's call...

Into harm's way, our courage, never to sway
Through the darkest of nights and the most tumultuous of days...
Our shores be protected, the ultimate of sacrifice, shall not impede our way
The most determined and deadliest of enemies, we shall stay...

"The home of the brave and the land of the free"
Will live on forever, this, our sabers, do guarantee...
"Where the Eagle Protects the Dove"
For "The Star Spangled Banner" and the Constitution we so dearly love...

From on high, the Screaming Eagles soar
The shroud of oppression, by talons sharp, soon be tore...
The torch of Lady Liberty, lights the way
Her "Sky Soldiers" will save the day!

For our ghosts of battles past, like them, we stand proud and fast,
"The Bill of Rights", we promise, shall forever last...
"The rocket's red glare, the bombs bursting in air"
Though death may surround us, to the Reaper, we'll show no fear...

Storming the gates of hell, with all our strength, we will STRIKE!
No matter, the roaring inferno, Satan does ignite...
The intense heat and consuming flames, we shall smother
Does not "The Lord of the Flies" know, Saint Michael, be our brother?

"In God We Trust", and rightfully so
For it is He who creates, elite troopers - so daring and bold!
Ever-ready, to go anywhere, to oppose any foe
Gallant warriors, sporting crests of eagle claw, true blue and gold...

For the girl next door and Mother's apple pie
Helicopters and parachutes will fill the sky...
"For amber waves of grain and Purple Mountain's majesty"
We will always fulfill our "Rendezvous with Destiny!"

To lay down one's life for his friend, no greater love than this
Please remember me, be our dying wish...
"Duty, Honor, Country", to protect our people and beloved land
Tis the Widowmaker's solemn purpose, FOR WHICH WE STAND!

Mighty Men Of Valor - With Charley Company on Hill 714
By John G Roberts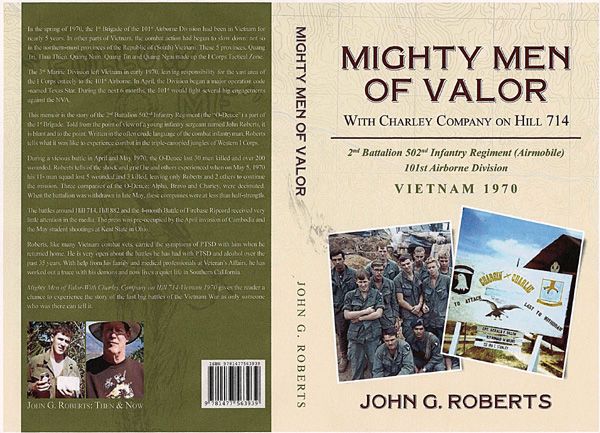 (Click image above to see larger version of cover)
In the spring of 1970, the 1st Brigade of the 101st Airborne Division became involved in Operation Texas Star which led to the last big battles of the Vietnam War. These battles received very little attention in the media back in the world, but they were significant. The author, John Roberts, served in the 1st platoon of Charley Company, 2/502 from January to December, 1970. His book, Mighty Men of Valor - With Charley Company on Hill 714, Vietnam, 1970 is the story of the fight to take Hills 714 and 882 west of the Song Bo River in April and May of 1970. It is Roberts' personal story as well. Using his letters home to his family, interviews from his fellow Charley Company veterans, after action reports and battalion daily journals, he tells in detail the story of Charley Company and the O-Deuce during that fateful year of 1970.
"If you've already read James Brinker's story of the Recon Platoon in West of Hue - Down the Yellow Brick Road and Eraldo Lucero's story of Alpha Company in Echoes of a Distant Past - Screaming Eagles, then this new book about the O-Deuce will complete the picture of Operation Texas Star, Operation Jefferson Glen, Come Back Ridge and the mighty men of valor who fought the battles.."

- John Roberts, author
Buy from
Amazon.com
or
Publisher's Web Site
Echoes of a Distant Past
By Eraldo Lucero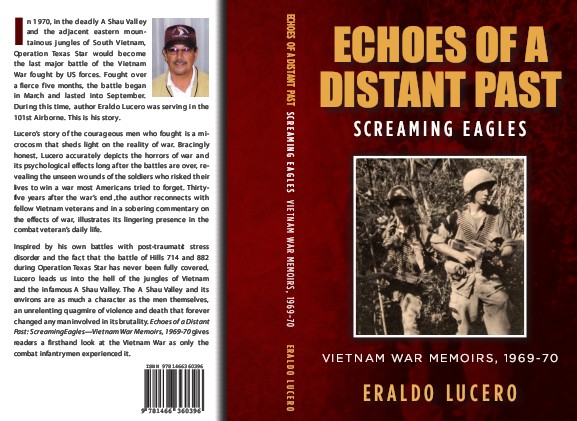 "<This book> is based on my own personal experiences while serving with Alpha Co., 2/502 during the time-period August 1969 through August 1970 and references the 2/502's role in the Battle of Hills 714 and 882 during 'Operation Texas Star'."

- Eraldo Lucero
"In 1970, in the deadly A Shau Valley and the adjacent eastern mountainous jungles of South Vietnam, Operation Texas Star would become the last major battle of the Vietnam War fought by US forces. Fought over a fierce five months, the battle began in March and lasted into September. During this time, author Eraldo Lucero was serving in the 101st Airborne. This is his story.

Lucero's story of the courageous men who fought is a microcosm that sheds light on the reality of war. Bracingly honest, Lucero accurately depicts the horrors of war and its psychological effects long after the battles are over, revealing the unseen wounds of the soldiers who risked their lives to win a war most Americans tried to forget. Thirty-five years after the war's end, the author reconnects with fellow Vietnam veterans and in a sobering commentary on the effects of war, illustrates its lingering presence in the combat veteran's daily life.

Inspired by his own battles with post-traumatic stress disorder and the fact that the battle of Hills 714 and 882 during Operation Texas Star has never been fully covered, Lucero leads us into the hell of the jungles of Vietnam and the infamous A Shau Valley. The A Shau Valley and its environs are as much a character as the men themselves, an unrelenting quagmire of violence and death that forever changed any man involved in its brutality. Echoes of a Distant Past: Screaming Eagles–Vietnam War Memoirs, 1969-70 gives readers a firsthand look at the Vietnam War as only the combat infantrymen experienced it."
Buy Echoes of A Distant Past at Amazon
When You Hear the Bugle Call
Thoughts, Memories and Tears
Two Books By Peter S. Griffin
Both books are available at "Grif"'s Griffin's Lair website
When You Hear The Bugle Call subtitled, "Battling PTSD and the Unraveling of the American Conscience" is a compelling, poignant and straightforward presentation of sickness and healing, righteousness opposing wrong doing, and the eventual triumph of the human spirit despite overwhelming obstacles and barriers. This very personal account of war and its aftermath was written to benefit combat veterans agonized by severe and chronic Post Traumatic Stress Disorder (PTSD), composed by one who is living the nightmare, one of their own, a fellow warrior. In the broader scope, this account is meant to help them, and their friends and loved ones to better understand this overwhelming psychological, involuntary, and innate response to continual, life threatening situations. This book will bring them to the realization that they are not alone in their sufferings, help is as close as the nearest Veterans Administration Medical Center and any caring individual who has read and benefited from the pages of this presentation.

NOTE: Chapter 11 of this book, The Battle of Anh Ninh is excerpted in the Personal Histories section.

Thoughts, Memories and Tears , An Anthology of War, Death and Remembrance was written for healing purposes... for myself, for all who suffer from Post Tramatic Stress Disorder (PTSD) and those who love and care about them. It was also written to honor all who picked up arms, fought and were willing to lay down their lives for their friends, ideals and country. For all those who faced the beast in hellish war... those who perished and those who survived... those poor, troubled souls who came home alive but were dead inside, those brave warriors who developed and are tormented constantly by PTSD.

Two poems from this book are published here:

The Battle of Anh Ninh - A Poem (this is also linked to Peter Griffin's The Battle of Anh Ninh in the Personal Histories section).

Dancing With The Grim Reaper - A Poem
Warriors Remembered
By Al Nahas

WARRIORS REMEMBERED is a 240-page, 11½" x 11½" hard cover photo documentary of Vietnam Veterans Memorials from all 50 states with stories of their significant features, locations and the motivation and struggle faced by those who built them. It highlights 100 memorials and their creators, and shares some of each memorial's subtle details. WARRIORS REMEMBERED is both a travel log and a documentary.
Differing from memorials of other wars, here you will find no white granite generals or parade ground uniforms. Rather these memorials include names of the fallen engraved on black granite, dark bronze fighting men, or the wounded and the nurses who cared for them. Often they reflect the anguish of war and its aftermath. The author is eternally grateful to the selfless warriors and families who created these places of recognition, reflection and "welcome home" and who assisted with this book by sharing their stories.
Every memorial is unique and has its own unique story. Years of research have given Albert Nahas a perspective to make each memorial come to life with details and anecdotes most visitors would not uncover on their own. Excellent work for all war veterans.

Lt. Gen. Harold G. Moore USA (Ret.) and Joseph L. Galloway
Authors of We Were Soldiers Once... and Young and
We Are Soldiers Still: A Journey Back to the Battlefields of Vietnam
http://warriorsremembered.com
Serving Our Country And Paying the Price: The Story of Recon 2/502
By Richard "Lambchops" Price
This book is the combat story of a most respected United States Infantryman. But don't be deceived when you read his call sign was "Lambchops". It was supposed to be "Lam-Baste", which Mr. Webster describes as "to assault violently".

His intelligence, determination, courage and leadership were well-developed character traits when his country called. He was trained for service as a rifleman, sent to the Division of Screaming Eagles and assigned to a clique of equally gifted riflemen respectfully known as Strike Force Recon.

This is also their story and when you read the torment, it may help you understand the enduring loyalty combat soldiers have for one another.

- Charles J. "Shamrock" Shay, Colonel Infantry (Ret)
Commander 2/502 Strike Force
The author is a man I fought side by side with in the jungles of Vietnam. We went there as teenagers and returned home as men, as survivors. In this book the author looks into the soul of the RECON soldier.

-Don "Wild Bill" Corey
Recon 2/502
Learn what it is to be hardcore, the state of mind of a combat grunt, and how a rational being deals with the rest of his life. Better than any ivory tower study.

I would highly recommend this book to anyone that wants to know the price one pays being a warrior for democracy and freedom.

-James P. Brinker
Recon 2/502 Vietnam 1970
Author West of Hue, Down the Yellow Brick Road
$16 + $4 shipping and handling
Richard Price
92-1333 Panana #56
Kapolei, HI 96707

Hard Core
by Bud Yost, Major U.S. Army (Retired)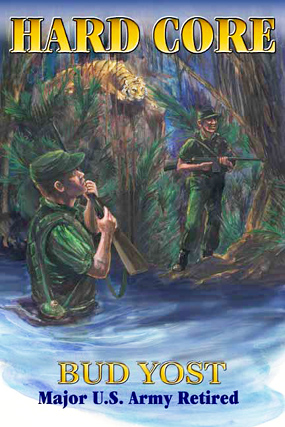 Death always stalked close to the "Hard Core" squad in the jungles of Vietnam, but now they faced another threat. These paratroopers of C Company of the 502nd Airborne Infantry had already endured relentless, fierce close combat with Viet Cong and the North Vietnamese Army, often times facing overwhelming odds. Besides fighting a formidable enemy, they also had to battle the harsh elements of the jungle: excessive heat, insects, snakes and leeches, jungle foliage and thorns ripping into their skin - causing festering infections, jungle rot, constant dysentery, malaria and other maladies, and months of being soaked from monsoon rains and filth and bone-wearying fatigue.
On March 5, 1967, near Song Mau, the squad was on a reconnaissance patrol when they encountered a new and unexpected enemy, a large Bengal tiger. The tiger was stalking and about to pounce on the point man, PFC Wendell Rose, when SSG Bud Yost and SP4 Jim Buppert killed it. This encounter was just another saga added to the exploits of the "Hard Core" squad.
Read more at: RoseDog Books Online Store
West of Hue - Down the Yellow Brick Road
By James P Brinker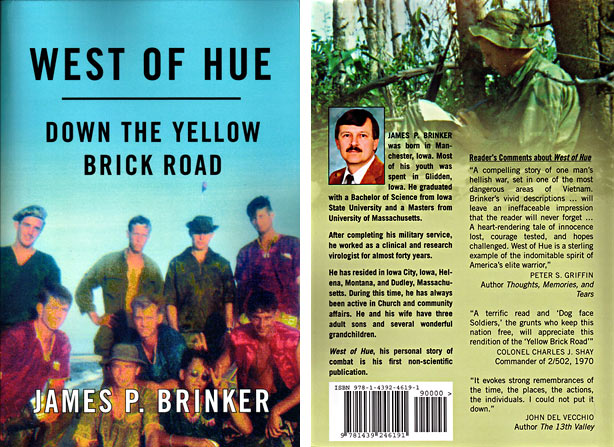 This is the personal story of a 2/502 Recondo in the 101st Airborne Division in Vietnam 1970. Vivid recollections of the battles for hills 714 and 882 where 30 brave Strike Force troopers died are described. It is also a story of the difficulties of going home and his ultimate redemption.
Signed copies First Edition $10.00
Second Edition $20.00
Shipping & Handling $4.00
James Brinker
10 Luther Lane
Dudley, MA 01571

508 943-6936

(updated August 26, 2022)