Strike Force Book - HELP NEEDED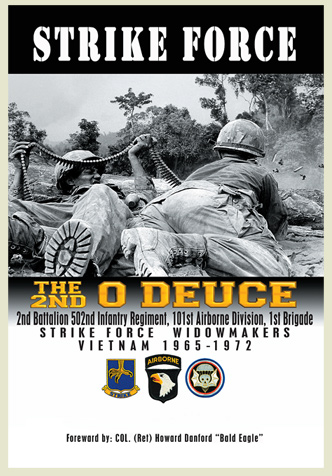 The O'Deuce Book Project is alive again!
Many of you were aware that there were problems, and that the "Ball got dropped" on the previous effort. We now have two capable and competent people to take over this project:
Rick Bunger (A/4th Plt - 2/502nd/1st Brigade (Separate -Feb67/Oct68)
Don Cordle (A/2nd plt May 1970-April 1971)
These two - O'Deuce brothers can, and WILL, get our story told as factually as humanly possible. Both Rick and Don have the writing skills to get this done, and have banded together to HELP tell Our Story. They both served their time in the bush, but at different times.
This is our only legacy
This is how our children, grandchildren, and great grandchildren will be able to know the truth about how we lived and fought in Vietnam.
We need YOUR help with this effort
We need YOUR stories and memories to set in print. There are numerous books on the market that tell of different personal battle accounts, with all the gore that goes along with that, and those definitely need to be told. But we are looking also for the day to day activities and events, memories of your own, that will make a small puzzle piece of a much bigger picture. Even the humorous things, if there were any, would make a wonderful addition to this project. The crazy things we did for no other reason than because we could, to help us deal with all that stress. Stories about when you first arrived back home, what you felt like, during those first few weeks or months. Anything at all that you are willing to share with the world will be very much appreciated. When all those little pieces are placed together, we will have a pretty factual account of how it really was during your time there and how we dealt with it all. Remember, we ARE different, and no other division or brigade operated like we did, those stories need to be told and saved for history.
It depends on YOU to capture Our Legacy, or it will be LOST forever
Every time one of our men passes away, a library of information will go to the grave with him. "When an old man dies, another Library is burned to the ground". We, ourselves, are the only ones we can rely on to preserve OUR history.
Don't be concerned about writing skills – just tell your story
They'll take care of making sure spelling, grammar and sentence structure are taken care of. For those who can't, or don't want to write it down, Rick Bunger has the equipment to Record a Phone Conversation - just give him a call.
Contact Rick or Don and tell your story:
Rick Bunger rick.bunger@cox.net
or call 602-882-4394 or 480-288-7693 Please leave a message if I don't answer the first time. I WILL CALL YOU BACK…
11023 E. Nopal Ave.
Mesa, Arizona 85209


Don Cordle dcord@roadrunner.com
11012 Humm road
Berlin Heights, Ohio 44814